Since he made his first record in 1965, Jean-Marie Benjamin published about thirty discs of his compositions, varying from classical music to pop-music and soundtracks.
Pianist and guitar-player, he composed a hundred scores, among the official hymn for UNICEF, created in Rome in April 1984. His oratorio "The Creation of the Angels" for soloists, double choir and orchestra was created in 1975 at the Opera in Madrid, then performed by the orchestra and choir of the RAI (Radiotelevisione Italiana) in April 1984, broadcast by Eurovision. His "Symphony Jerusalem" was created in Paris in 1972 at Salle Pleyel. His cantata for bass solo, choir and organ was created in Paris in 1977. His "Salve Regina" for choir and strings was created in Rome in 1992. He is also the author of a concerto for violoncello and orchestra and various scores for piano and guitar. He composed about forty songs for Italian, French and Dutch artists. During the years 1975-1980 he recorded in Italy, France and England –arrangement and guitar- various records of disco music. Lately, he published a CD with songs that he composed, wrote the lyrics and sang in Italian, entitled "Iraqi People". All instruments are played by the author.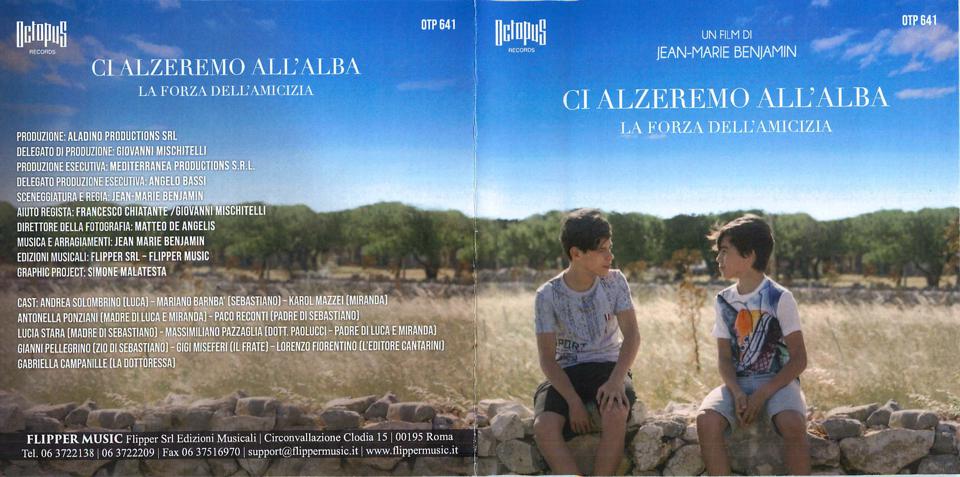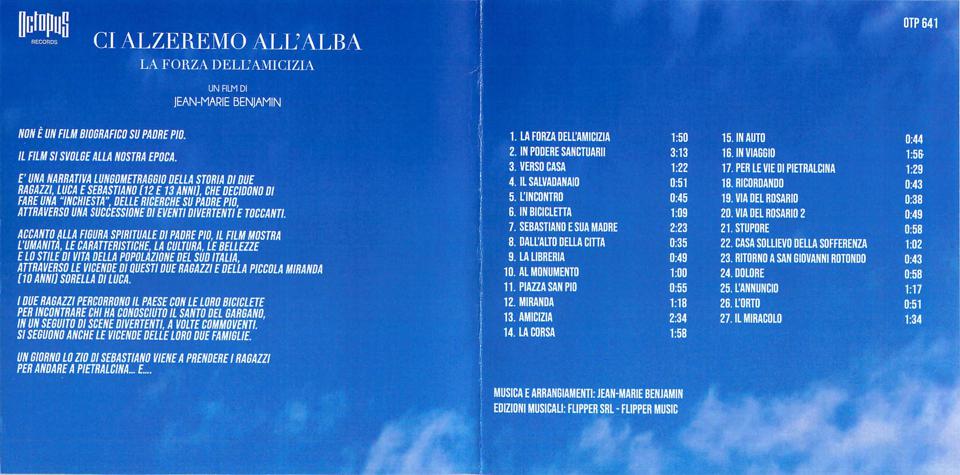 Soundtack available on iTunes e Flipper Music.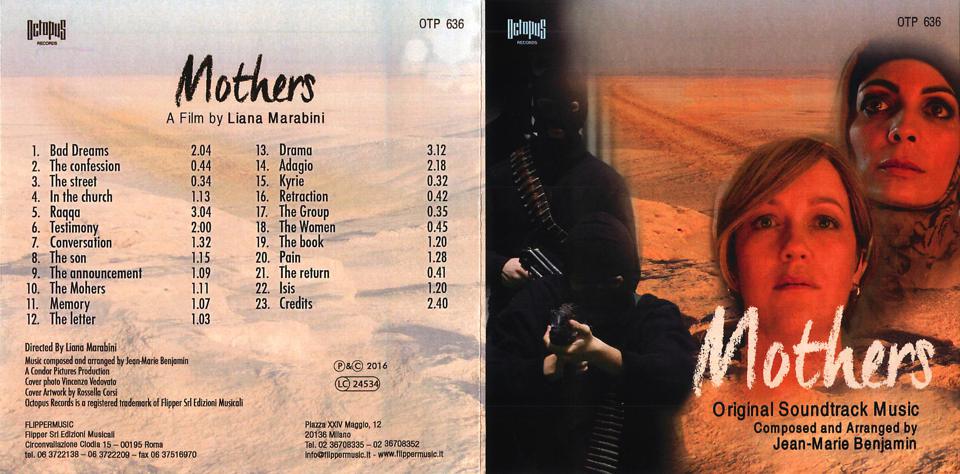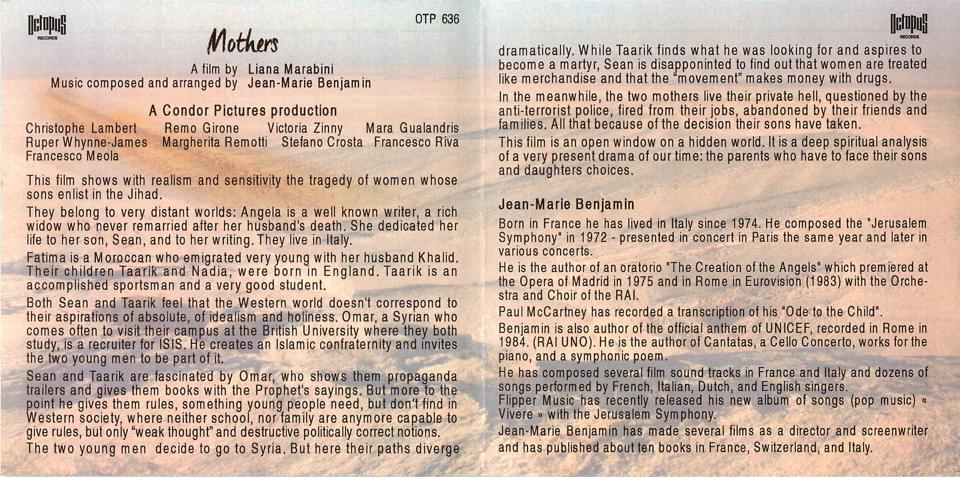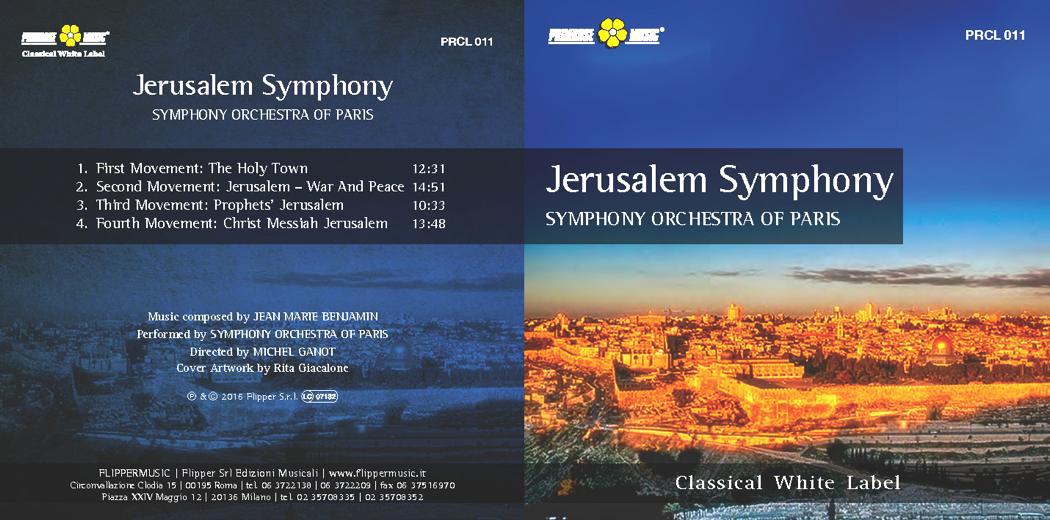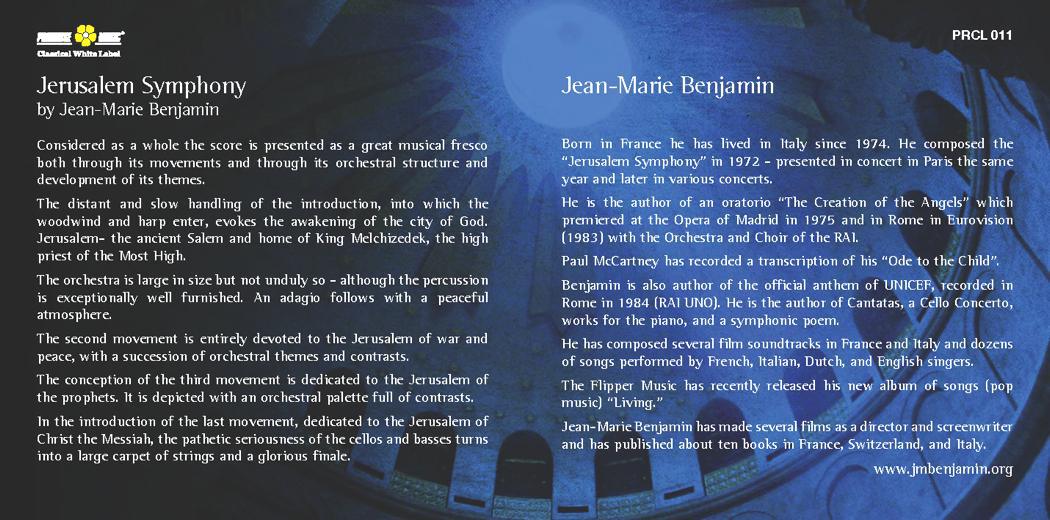 The songs and the musical arrangements are a synthesis of pop-folk-country music. The texts are an appeal against the war in Iraq. They send strong message of the hypocrisy of power in the world. Music, Instruments and voice by Benjamin. Demo and download link (Available on iTunes) Flipper Music
UNICEF Hymn
Official "UNICEF hymn" (Ode to the Child), performed in Rome1984, The Rai Rome Orchestra and Choir (directed by Donato Renzetti?), in a Eurovision Broadcast.
Music and Orchestration by Jean-Marie Benjamin
Lyrics by Jan van Zoelen and Leonie Gane

The creation of the Angels
Orchestra and Choir from RAI Television in Rome


Symphonie "Jerusalem"
Musique et Orchestrations de Jean-marie Benjamin
Direction d'orchestre de Michel Ganot
Orch. Symphonique de Concerts Lamoureux, Paris


Servante e Maitresse
Soundtrack of the movie directed by Bruno Gantillon


Cantate


"Prière du matin dans la solitude"
Paris 1981 , église St. Thomas d'Aquin,

"Salve regina"
Roma 1992, Chiesa di S. Ignazio



London Taxi
Music, Arrgt. and voice


Le premier disque...
Musiche di Jean-Marie Benjamin
Parole di Louis Amade


Yann Andersen
Arrgts & Production


Pascal Auriat
Music and Aggts


Gérard Lenorman, Caris Arkin
Music and Aggts.


Francesco d'Assisi
Theater play in 1992 in Rome. Composed of 3 acts.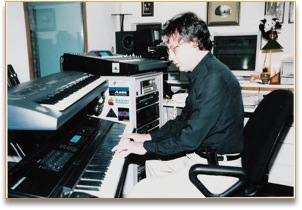 To download a music score of J-M Benjamin, click on the name of the composition:
- JERUSALEM SYMPHONY
Flipper Music Srl
- SALVE REGINA (for strings and choir)